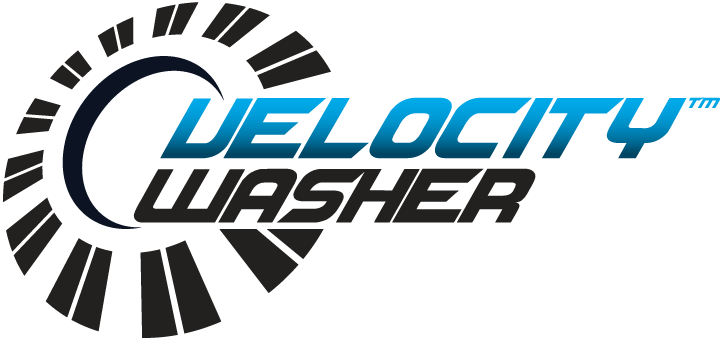 Velocity Washer™
Is galling delaying breakouts on your torqued flange assemblies? Then you need the Velocity Washer™!
Designed and patented by our own experts, the Velocity Washer eliminates galling, reducing downtime and costs and increasing production. Installed like a regular washer, the Velocity Washer is easy to use and ideal for exchangers, reactors, and blindpoints. With over 100 million combined usage hours and installations all over North America ranging from -40° to over 700° Fahrenheit, the Velocity Washer has gained our clients up to 94% time savings and 70% cost savings. Find out how our Velocity Washer can help you eliminate galling today.
Patented – US Patent #8,579,572   |   CA Patent #2794673  China Patent #ZL 201380048895X  |  Europe Patent #2875245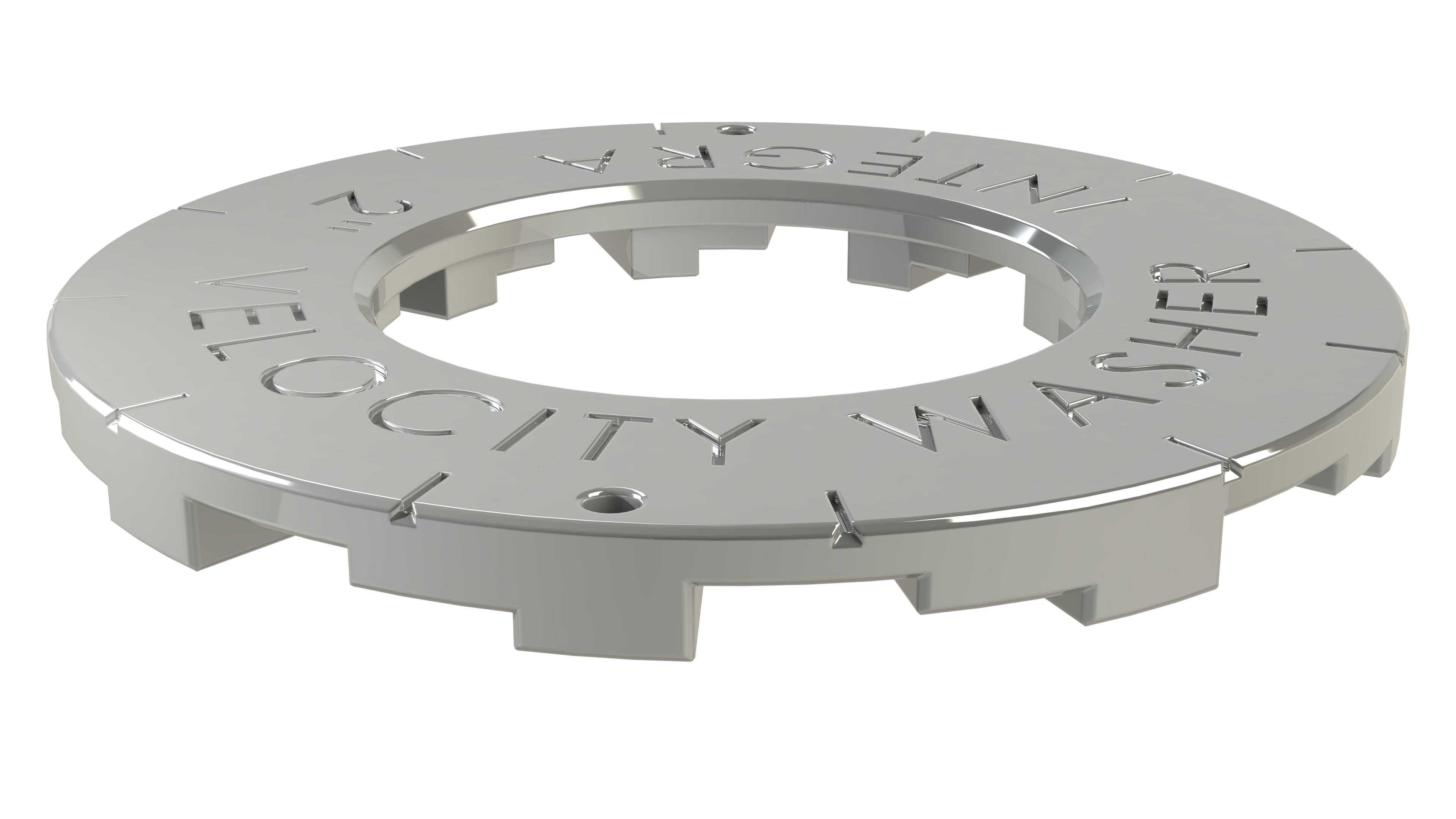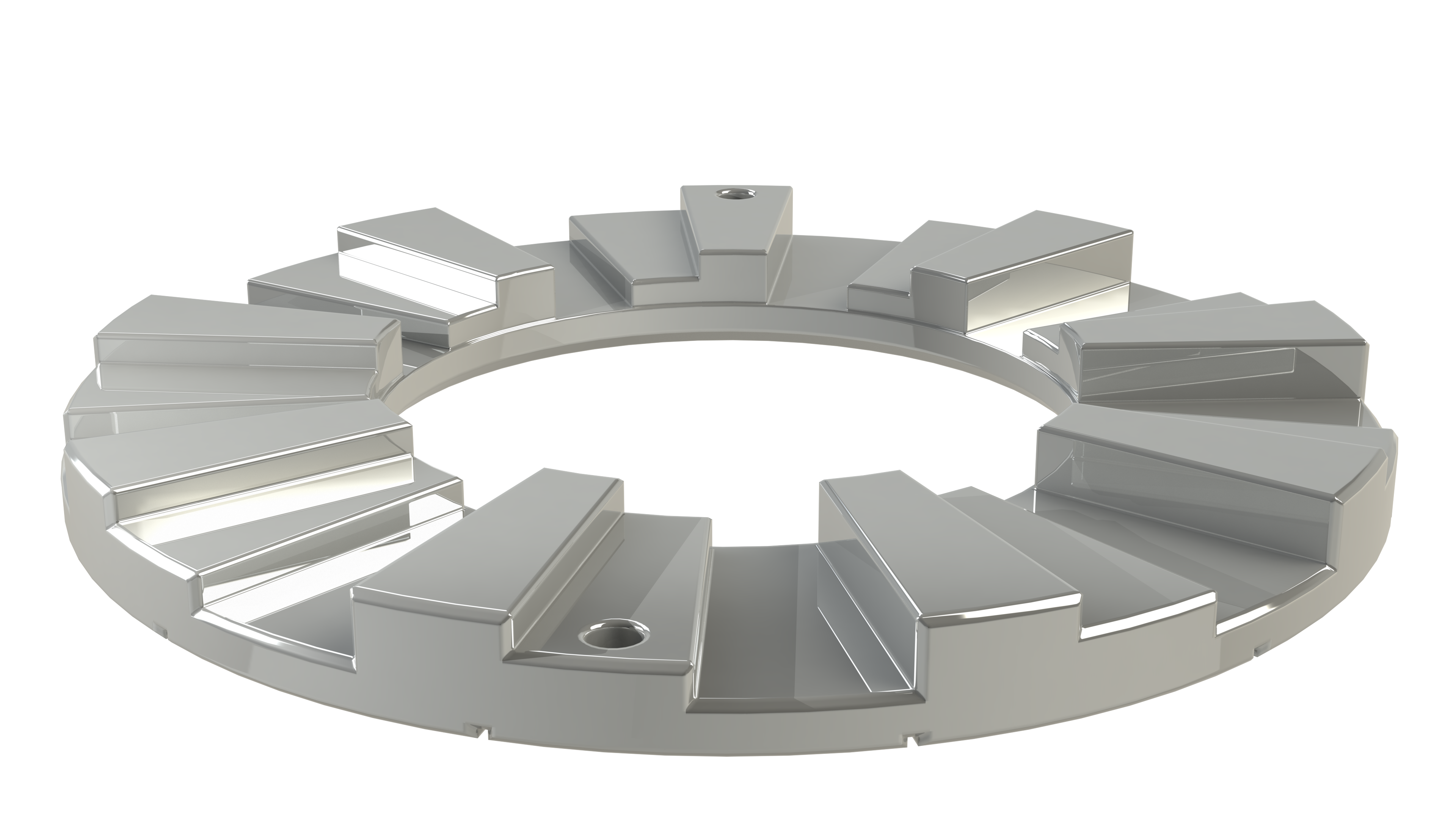 Place on Stud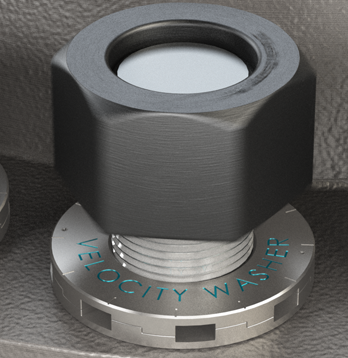 To install, simply place the Velocity Washer on the stud. Due to its symmetric design, it can't be installed in the wrong orientation, delivering the simplest installation.
Torque the Nut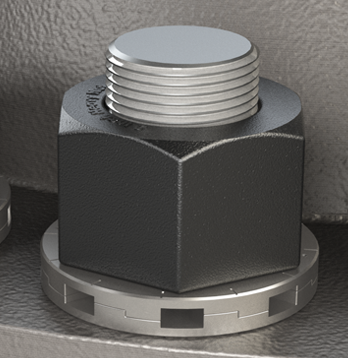 Torque the nut on using standard procedures: there are no special tools.
Turn the Nut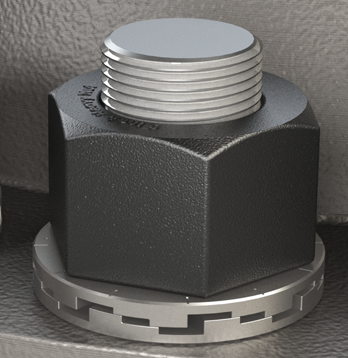 As always, turn the nut to the left. It will take less than one stroke of the torque wrench for the Velocity Washer to release all load.
Run the Nut Off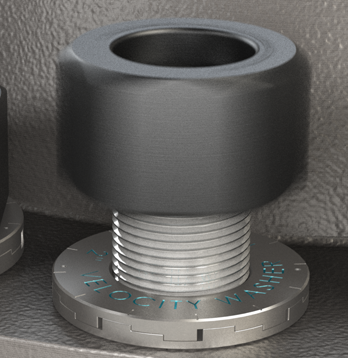 Once the Velocity Washer pops, all load will be removed, allowing the nut to be easily run off.
Specifications & Dimensions
Velocity Washer™ provides the same load distribution benefits as using a traditional hardened washer and meets ASTM F436 specification for material, hardness, and fitment. Standard specifications such as size, stress area, and maximum bolt load are listed below. For information regarding a Velocity Washer™ outside this range, please contact our experts.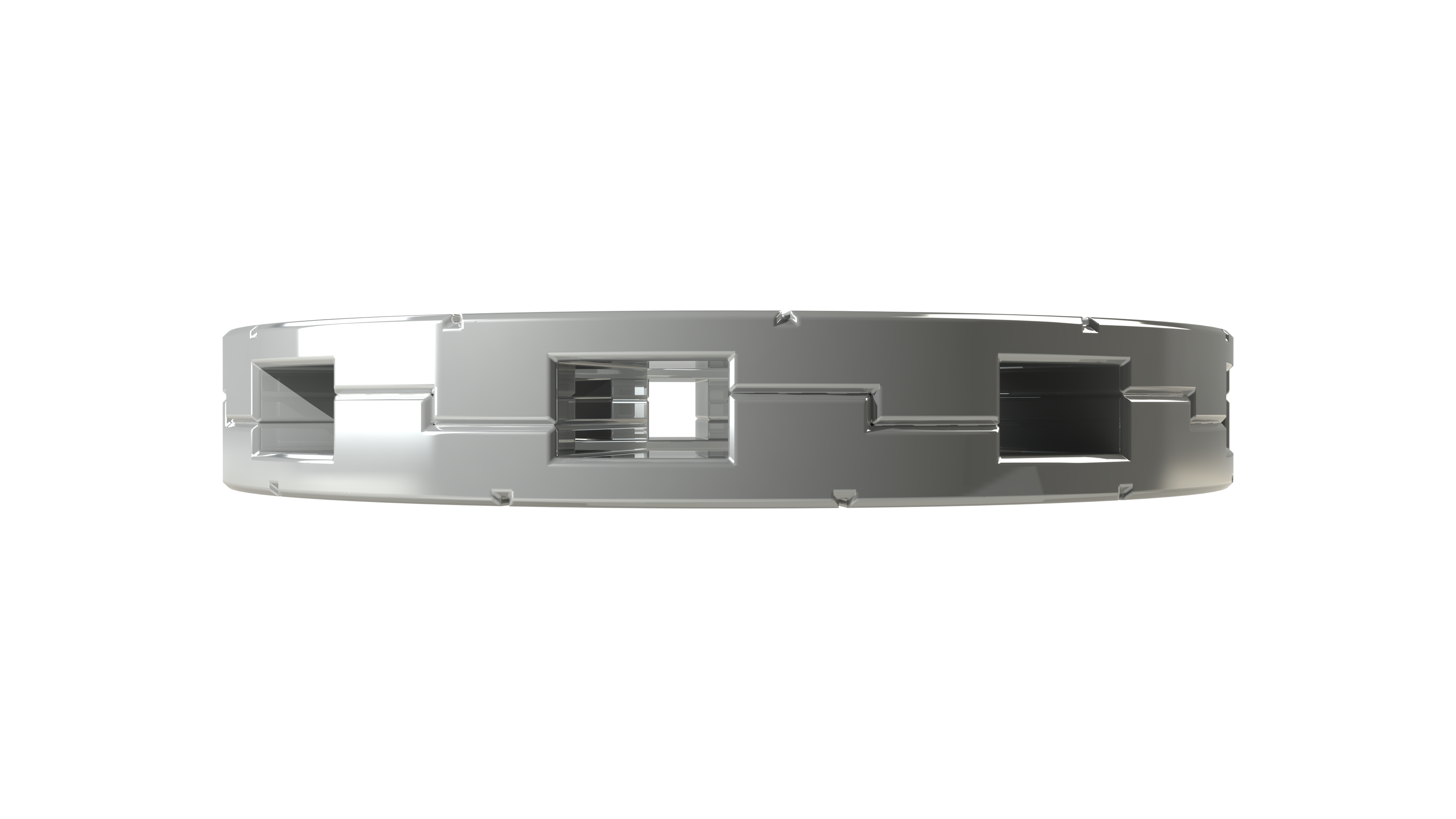 Specifications Sheet
| Nominal Bolt Size | Material | Hardness | Outer Diameter | Height | Activation Displacement | Activation Rotation | Stress Area | Stress-to-bolt Area Ratio | Maximum Bolt Load | Maximum Bolt Stress | Maximum Grip Length |
| --- | --- | --- | --- | --- | --- | --- | --- | --- | --- | --- | --- |
| in | AISI | HRC | in | in | in | ͦ | in2 | – | kip | ksi | in |
| 1 | 4340 HT | 38-45 | 1.99 | 0.44 | 0.08 | 12.5 | 1.44 | 2.38 | 64 | 105 | 8 |
| 1  1/8 | 4340 HT | 38-45 | 2.24 | 0.44 | 0.08 | 12.5 | 1.83 | 2.32 | 83 |  105 | 9 |
| 1  1/4 | 4340 HT | 38-45 | 2.49 | 0.44 | 0.08 | 12.5 | 2.26 | 2.26 | 105 |  105 | 10 |
| 1 3/8 | 4340 HT | 38-45 | 2.74 | 0.44 | 0.08 | 12.5 | 2.74 | 2.22 | 130 |  105 | 11 |
| 1 1/2 | 4340 HT | 38-45 | 2.99 | 0.44 | 0.08 | 12.5 | 3.27 | 2.19 | 157 |  105 | 12 |
| 1 5/8 | 4340 HT | 38-45 | 3.24 | 0.55 | 0.09 | 12.5 | 3.84 | 2.16 | 186 |  105 | 13 |
| 1 3/4 | 4340 HT | 38-45 | 3.36 | 0.55 | 0.09 | 12.5 | 4.02 | 1.93 | 219 |  105 | 14 |
| 1 7/8 | 4340 HT | 38-45 | 3.49 | 0.55 | 0.09 | 12.5 | 4.23 | 1.75 | 253 |  105 | 15 |
| 2 | 4340 HT | 38-45 | 3.74 | 0.55 | 0.09 | 12.5 | 4.88 | 1.76 | 291 |  105 | 16 |
| 2 1/4 | 4340 HT | 38-45 | 3.99 | 0.62 | 0.10 | 12.5 | 5.31 | 1.49 | 373 |  105 | 18 |
| 2 1/2 | 4340 HT | 38-45 | 4.49 | 0.62 | 0.10 | 12.5 | 6.80 | 1.53 | 466 |  105 | 20 |
| 2 3/4 | 4340 HT | 38-45 | 4.99 | 0.62 | 0.10 | 12.5 | 8.48 | 1.56 | 515 | 95 | 22 |
| 3+ | | | | | –Please Call– | | | | | | |
| Nominal Bolt Size | Material | Hardness | Outer Diameter | Height | Activation Displacement | Activation Rotation | Stress Area | Stress-to-bolt Area Ratio | Maximum Bolt Load | Maximum Bolt Stress | Maximum Grip Length |
| --- | --- | --- | --- | --- | --- | --- | --- | --- | --- | --- | --- |
| in | AISI | HRC | in | in | in | 0 | in2 | – | kip | ksi | in |
| 1 | 4340 HT | 38-45 | 1.99 | 0.44 | 0.08 | 12.5 | 1.44 | 2.38 | 64 | 105 | 8 |
| 1-1/8 | 4340 HT | 38-45 | 2.24 | 0.44 | 0.08 | 12.5 | 1.83 | 2.32 | 83 | 105 | 9 |
| 1-1/4 | 4340 HT | 38-45 | 2.49 | 0.44 | 0.08 | 12.5 | 2.26 | 2.26 | 105 | 105 | 10 |
| 1-3/8 | 4340 HT | 38-45 | 2.74 | 0.44 | 0.08 | 12.5 | 2.74 | 2.22 | 130 | 105 | 11 |
| 1-1/2 | 4340 HT | 38-45 | 2.99 | 0.44 | 0.08 | 12.5 | 3.27 | 2.19 | 157 | 105 | 12 |
| 1-5/8 | 4340 HT | 38-45 | 3.24 | 0.55 | 0.09 | 12.5 | 3.84 | 2.16 | 186 | 105 | 13 |
| 1-3/4 | 4340 HT | 38-45 | 3.36 | 0.55 | 0.09 | 12.5 | 4.02 | 1.93 | 219 | 105 | 14 |
| 1-7/8 | 4340 HT | 38-45 | 3.49 | 0.55 | 0.09 | 12.5 | 4.23 | 1.75 | 253 | 105 | 15 |
| 2 | 4340 HT | 38-45 | 3.74 | 0.55 | 0.09 | 12.5 | 4.88 | 1.76 | 291 | 105 | 16 |
| 2-1/4 | 4340 HT | 38-45 | 3.99 | 0.62 | 0.10 | 12.5 | 5.31 | 1.49 | 373 | 105 | 18 |
| 2-1/2 | 4340 HT | 38-45 | 4.49 | 0.62 | 0.10 | 12.5 | 6.80 | 1.53 | 466 | 105 | 20 |
| 2-3/4 | 4340 HT | 38-45 | 4.99 | 0.62 | 0.10 | 12.5 | 8.48 | 1.56 | 515 | 95 | 22 |
| 3+ | –Please Call– | –Please Call– | –Please Call– | –Please Call– | –Please Call– | –Please Call– | –Please Call– | –Please Call– | –Please Call– | –Please Call– | –Please Call– |
Velocity Washer™ Case Study – Oil Refinery in Western Canada
Velocity Washer™: Boring Installation, Exciting ROI
Velocity Washer™ – Speed You Can Bank On
1-Minute Case Study: Velocity Washer™